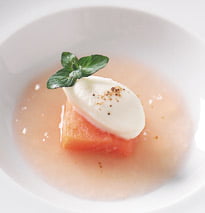 29 Jan

Smoked Alaska wild Coho salmon with tomato soup and mozzarella ice-cream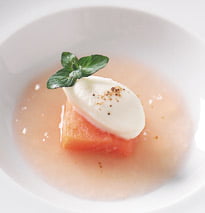 Smoked Alaska wild Coho salmon with tomato soup and mozzarella ice-cream
Ingredients
400

g

smoked Alaska wild salmon

silver variety (Coho)

2000

g

ripe vine tomatoes

8

gelatine leaves

16

fresh oregano leaves

300

g

cream

100

g

milk

200

g

mozzarella

anchovy salt

Hojiblanca extra virgin olive oil

black pepper crystals
Instructions
Cut the Alaska wild salmon into sticks of 2 cm, mash the tomatoes, strain the pulp and pass it through muslin to obtain tomato juice.

Dilute one gelatine leaf per ¼ litre of tomato juice and season.

Mix the milk, cream and mozzarella, thin by heating, season and freeze for processing later.

Assemble the salmon sticks in the shape of a tower, place a ball of the mozzarella ice-cream on top, drizzle with olive oil, a fresh oregano leaf, the black pepper crystals and the tomato juice.

Sprinkle with anchovy salt (if you can't find any, mash an anchovy with a tablespoon of sea salt and leave to dry) and pepper crystals, which are made by mixing 2 tablespoons of sugar and one of water in a frying pan over a low heat until you get a transparent caramel. Spread in a very thin layer on greaseproof paper and sprinkle with black pepper.

Leave to cool and then break up by hand into small crystals.